Description
YAAVIK MATERIALS AND ACS MATERIALS PRESENTS
Single Layer Graphene Oxide Dispersion
in India. The material synthesized in fully controlled environment and with proven parameters gives you the best desired results. For more information and customized requirements contact info@yaavikmaterials .com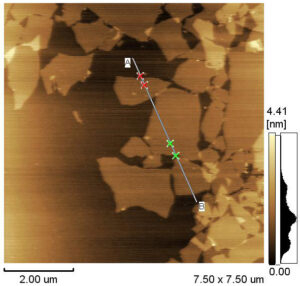 AFM of graphene oxide dispersion
Single-layer graphene oxide (GO) is an exciting graphene-based nanomaterial with potential for use in a wide variety of industries and applications. GO's good dissolvability in water, as well as in organic solvents, makes solution processing easy. Dispersions of graphene in water and ethanol facilitate environmentally safe handling of graphene for use in coatings, composites, and other advanced material applications. Single-layer graphene oxide from ACS Material has a pH of about 3-5 when dissolved into distilled water by sonication. Applications include transparent conductive films and coatings, solar energy storage cells, nanoelectronics, supercapacitors, biosensors, drug delivery systems, and many others.
Single-layer graphene oxide dispersions in water are just one of many research-grade advanced nanomaterials available from ACS Material. Contact us for more details and specifications about this or any of our other outstanding products. We're committed to helping research labs around the world bring their ideas to life.
Single Layer Graphene Oxide Dispersion is very stable and can be stored for more than one year without using a surfactant. It is suitable for the preparation of reduced graphene and graphene film.
FAQ
1. What is the pH of Graphene Oxide Dispersion in Water?
The pH is 3 – 5.
2. What is the preparation process of Single Layer Graphene Oxide Dispersion in Water?
It is synthesized in water first and freeze dried to make powder, which is then dispersed in water at the required concentration.
The product is also available on https://www.yaavikmaterials.org/  , https://yaavikmaterials.in/